If you're like me and love dogs, you've probably spent a lot of time trying to figure out if SportDOG FieldTrainer 425X dog training collar is right for you or not. Great dog breeds don't always come with the right training ability. Training your dog to listen is a skill that takes time to master. You have to build your dog's behavior and train her over time. It's important to work with your dog in a positive and fun way so that she doesn't become bored or frustrated.
The problem is that Zoey, my dog, loves to chase things. I don't like the idea of her chasing things outdoors because it can get messy and dangerous. So, to help solve this problem, I introduced the SportDOG FieldTrainer 425X. By teaching Zoey where to go with the remote trainer into our training sessions for a few weeks, Here's how this remote training collar worked for us.
Features
Top Pick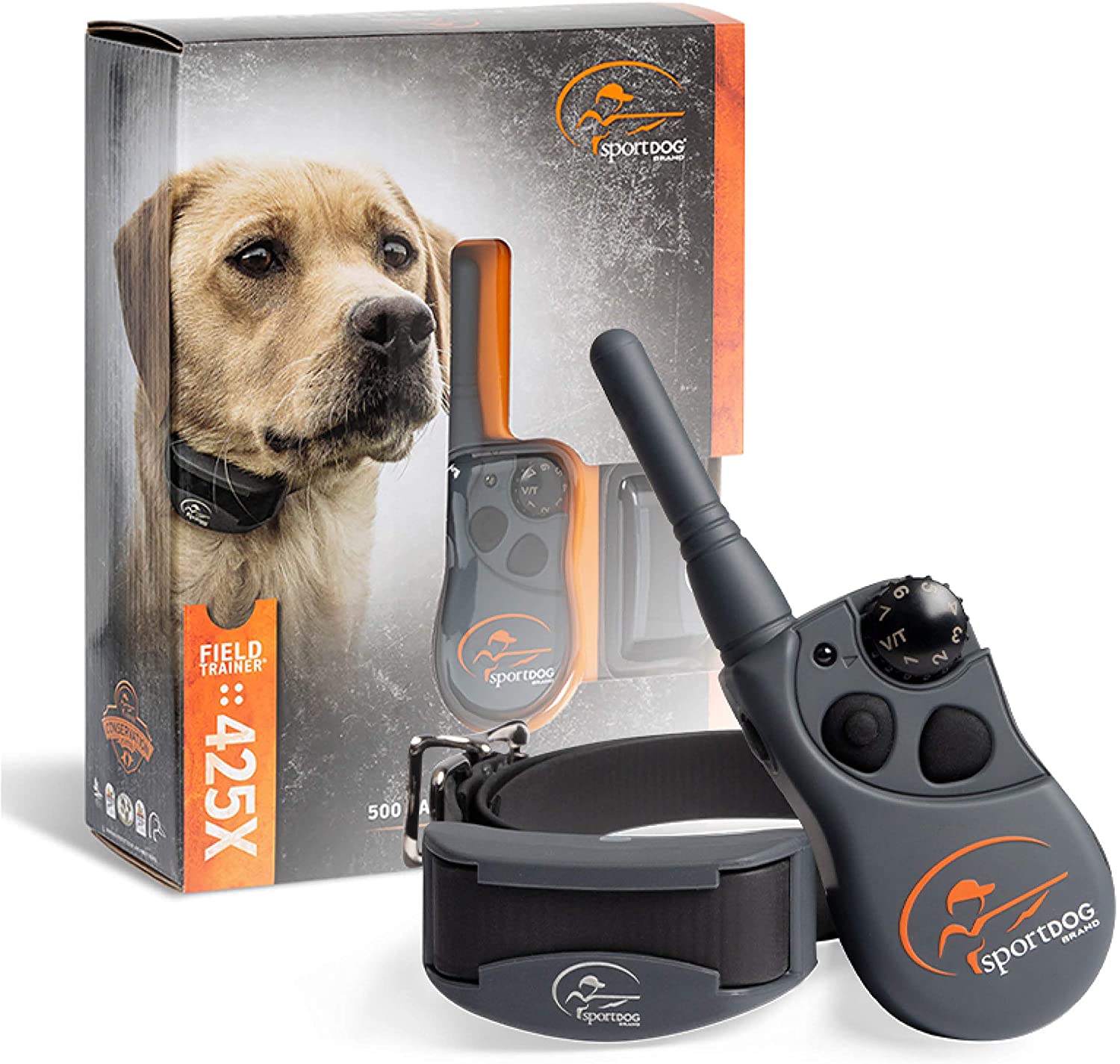 Specifications
500 yard range e collar that can support training 3 dogs with the same remote with purchase of additional collars (SDR AF)
Choose to train with vibration (buzz), tone (beep), or 21 levels of static simulation in either momentary (nick) or continuous
Waterproof and submersible to 25 feet using DryTek technology
Lithium ion, rechargeable batteries feature a 2 hour quick charge, and a low battery indicator lets you know when to charge
Fits dogs 8 pounds or larger with neck sizes 5 to 22 inches
Age range description: All stages
Included components: Basic training manual

The range of the SportDOG FieldTrainer 425X is up to 500 yards. I found out that depending on several factors, specifically indoor viz-a-viz outdoor, including the terrain and weather, this range could be at times less or even more. Though I did not face any problem related to its range, if you are planning to use it for hunting or field dogs, you may need a field trainer with longer ranges.
Battery Life
SportDOG Brand 425X is a rechargeable lithium-ion battery powered dog training collar that recharges in about two hours. It comes with a single charger to power up both the receiver and remote at the same time. When you buy a collar, you are buying a piece of equipment. An accessory that needs to be charged. You may want to consider purchasing a collar with rechargeable batteries so that you won't have to replace the batteries as often. This will save you money in the long run.
I found out that the battery lasts for about 60 hours per charge. Meaning by that if you train your dog for 60 minutes every day then you will require it to charge once a week. The manual along the package claims that batteries would last for 3 -5 years (Obviously, now I can not verify the claim)
Design
It is the smallest and lightest but solid and well-made training collar I have ever used with a remote which is quick and operates easily without having to look at it – which lets me focus on my dog and not on my remote. With only a slight movement of the dial and the push of a button, I was able to deliver a tone, vibration, or one of the 21 levels of static stimulation. Dog training gear is one of the most important pieces of equipment that you'll need if you want to train your dog.
The receiver fixed on the collar is lightweight and it is attached with a strap with metal buckles. The collar can easily be used on a dog with an 8 pounds dog or larger with neck sizes 5 to 22 inches. I cut down the plastic collar to fit Zoey's neck and it was good to go.
Zoey Experience with SportDOG FieldTrainer 425X
My dog Zoey loves to chase things outdoors. So my basic concern was to change her behavior so I can take her for a run outside. I started my training sessions with her using SportDOG FieldTrainer 425X. Initially, when I let her loose and tried to give her command through the remote, she ignored it. Then I used the remote to provide her continuous stimulations until she turned back and started moving back to me. By reading through the manual provided along the collar, I was easily able to train her within a month.
Answers to Your Questions
How do I know my Sportdog collar is working?
You can use the test light that came with your sport dog brand system. Switch on your Sportsdog collar receiver. Touch the contact points on test light with contact points on receiver and press the stimulation button on transmitter. The testing light will blink giving you indication that your Sportsdog collar is working properly.
How long does it take to fully charge the SportDog collar?
It typically takes about 4 hours to fully charge the SportDog collar.
How do I know if my SportDOG collar is working?
A great way to know if your SportDOG collar is working is to watch whether there is some change in your dog behavior e.g if your dog is barking and once you apply shock correction the dog does stop, you know that your collar is working properly and will be able to assist in training your dog.
Does SportDOG collar vibrate?
The SportDOG FieldTrainer 425X has both vibration and stimulation settings. The vibration is used as a warning before the stimulation is given. This allows you to correct your dog's behavior without having to worry about hurting them.
Is the SportDOG 425X waterproof?
Yes, the SportDOG 425X has a water-resistant rating so you can use it in rainy conditions.
Can I use SportDOG 425X with puppies?
Yes, the SportDOG FieldTrainer 425X is safe for puppies of all ages.
How long does the battery last?
The SportDOG FieldTrainer 425X has a rechargeable lithium-ion battery that can last up to 60 hours.
What colors does the SportDOG FieldTrainer 425X come in?
The SportDOG FieldTrainer 425X comes in black and yellow.
What size dogs can use the SportDOG FieldTrainer 425X?
The SportDOG FieldTrainer 425X is recommended for dogs weighing more than 8 pounds.
How many levels of stimulation does the SportDOG FieldTrainer 425X have?
The SportDOG FieldTrainer 425X has 21 levels of stimulation, which are low, medium, high, stronger and strongest.
What is the range of the SportDOG FieldTrainer 425X?
The range for this remote trainer is up to 500 yards.
Are SportDOG collars safe?
Yes, all SportDOG collars are safe. They're designed to be comfortable and durable.
Can I use the SportDOG FieldTrainer 425X with other SportDOG products?
Yes. The SportDOG FieldTrainer 425X can be used with other SportDOG products, including the SRT 2275 and SRT 3275 Series remote trainers.
How do you pair a dog collar?
Press the on/off button to turn the collar on, then wait until the indicator light comes on.
Stand away from the collar and hold the remote transmitter.
Push and hold the button on the remote transmitter.
Once the indicator light turns green, stop holding the button.
The collar should now work with the transmitter.
Why is my sport dog collar blinking red?
The blinking red light on the sport dog collar is a warning that there is no wireless signal.
Final Verdict
If you're a dog owner who wants to train your dog with a remote trainer, start training your dog as early as possible. The earlier you start training, the better your dog will be at listening. Though SportDOG FieldTrainer 425X is a bit expensive, considering its utility, affordability as compared to the fee of professional trainers, durability, and ease of use, it's the best choice.
The Sport Dog FieldTrainer 425X is a good choice for people who have dogs that are not very aggressive or hard to train. It's an excellent way to teach your dog basic commands and get him to stop barking. It's important to remember that the SportDOG FieldTrainer 425X does not work for all dogs, it depends on your dog's temperament and how he reacts to the stimulation.
Find out more Will Shock Collar Hurt My Dog?
You may like to read more about shock collar:-