Whether you own a dog or are thinking about getting one, there are a lot of things you should know before you take the plunge. Read our review of the Dogtra IQ PLUS to find out why this e collar is one of the best in its class, and how it can help you train your dog to be a responsible pet.
As an Amazon Associate, we earn from qualifying purchases
Dogtra iQ Plus
ULTRA-COMPACT DESIGN
ONE-HANDED OPERATION
100 LEVELS OF CORRECTIONS
EXPANDABLE UPTO @ DOGS
DURABILE & RELIABILE
What is Dogtra IQ Plus?
Dogtra IQ PLUS remote dog training system is a tool that lets you train up to two dogs simultaneously. It is a small and lightweight e collar with features normally found in full-sized and expensive remote trainers e collars. This e collar is for dogs 10 pounds and up with a range of 400 yards and has stimulation levels from 0 – 100. The e collar receiver is waterproof and has been tested with high power water jets at close ranges.
The Dogtra IQ PLUS is a highly sophisticated training tool that offers a fully automatic harness system that helps train dogs. This is a great e collar for anyone who has a dog who needs to be trained with or without a leash in a variety of different situations.
Main Features
What are the safety features?
The Dogtra IQ PLUS has three modes. All three modes have built-in safety features. Nick modes give just one electrical stimulation, whereas constant mode gives stimulation for 12 seconds only and turns off automatically, similarly, vibration mode also turns off after 12 seconds.
Overview of E Collar
Transmitter
The front side of the transmitter
The front side of the transmitter has a toggle switch for using it with one dog receiver or two different receivers for two dogs. It has 3 buttons, marked N for Nick, C for constant, and P for pager.
N – Nick button – a single rapid pulse of electrical stimulation is transmitted by the receiver.
C – Constant button – continuous stimulation for up to 12 seconds.
P – Pager button – vibration for up to 12 seconds.
Rear Side of the transmitter
The rear side of the transmitter has an On/Off Magnetic Red Dot and Battery Charging Receptacle & Rubber Plug.
Receiver
An anti-microbial plastic collar strap attached to the actual receiver has led light indicator, medical-grade stainless steel contact points, Battery Charging Receptacle & Rubber Plug and On/Off Magnetic Red Dot.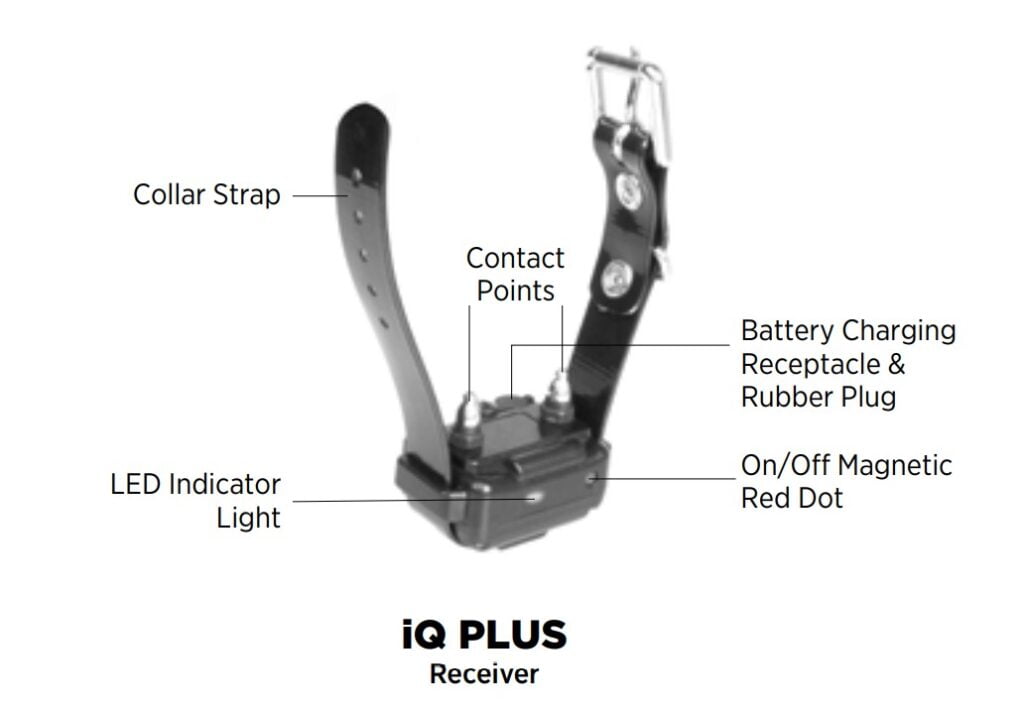 How to use Dogtra IQ Plus?
Charging
The transmitter and receiver both can be charged at one time from one charger and usually takes about 2 hours to fully charge. The led indicator gives you the charging level. Green indicates fully charged, amber indicates medium charging level and red led is an indicator that charging is required.
Turn On / Off
Place the red dot on the back surface of the handheld transmitter to the receiver's red dot for some seconds until the Led light turns on. Similarly, when you want to switch it off, repeat the same procedure, and the led light will turn red for a second and your unit will be switched off.
Fit the collar on the dog
The receiver should be worn firmly against the skin of the dog. It should also be able to grip the collar securely. The contact points should be firmly touching the dog's skin. The best location where contact points should be touching the skin of the dog is either side of the dog,s windpipe. Once you have secured the receiver on the dog, place your two fingers under the collar. If you can slide your fingers easily, your e collar is properly fitted.
Keep in mind a loose collar may rotate and contact points may cause irritation and redness to the skin of your dog and will not work effectively once you train your dog. You must ensure that receiver is not worn by the dog once he is asleep and if keep on changing the location of contact points if you are using an e collar for a longer duration.
Right Stimulation Level
Start with the 0 levels on the dial on the front side of the transmitter and slowly increase the level, till the time your dog responds to the stimulation.
Range of the Transmitter
The transmitter range is 400 yards but will depend upon the terrain, the way you hold it, and interference from other wireless devices. To maximize the range, hold the receiver above your head, away from your body.
Dog Training with Dogtra IQ Plus
Your dog is not ready for training with Dogtra IQ Plus till the time it complies with basic commands like come, sit, heel, etc with the leash. Once he understands these commands, you can start training with your e collar using the lowest level settings and use stimulations as positive reinforcement for teaching your dog. When your dog starts obeying the commands, gradually remove the stimulations. For More dog training How To Use E Collar For Training – 5 Easy Steps